---

Caesar; or, the Watchdog of the Castle was first seen on stage in 1844. Wonder what was going on in 1844? Well, read on!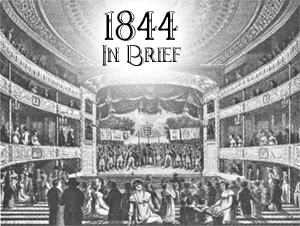 In literature, Friedrich Engels writes his Condition of the Working Class. Other new books this year are William Thackeray's Barry Lyndon, Alexandre Dumas père's The Three Musketeers, and Poems by Elizabeth Barrett Browning. Charles Dickens writes his second Christmas book The Chimes, his A Christmas Carol being a popular seller the year before. In America, authors Ralph Waldo Emerson and James Fenimore Cooper are also popular. Edgar Allan Poe's "The Balloon Hoax" story appears in the New York Sun as an actual article reporting on a balloon crossing of the Atlantic, but his poem "The Raven" is what brings him literary celebrity.


Donizetti's new opera La Fille de Regiment debuts. In drama, The Bohemian Girl is a wild success. The heroine sings "I Dreamt that I Dwelt in Marble Halls," and sheet music for it appears in almost every parlor in the Western World. Temperance plays become popular when American demand for prohibition laws increase. The Drunkard; or, The Fallen Saved appears this year and is the most successful of the "temperance plays". The play attracts large audiences and appeals to many who ordinarily did not attend dramas.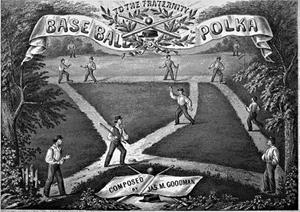 US baseball is becoming popular - the first printed rules appear in 1836; first team to wear official uniform does so in 1849. The social dance craze was the polka. (Two cultural artefacts collide, in the composing of 1844's "Telegraph Polka"). In music halls, a shocking and raucous dance called the "can-can" appears. Fashionable men wear colors, silks, velvets and jewelry. They glory in luxuriant whiskers (facial hair on the side, rather than a full beard) Women's figures take on a bell shape, with smaller sleeves and fuller skirts. Crinolines are not yet invented for another 13 years, but as many as six petticoats are worn under the skirt to increase its size.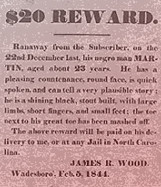 Slavery is still legal in US for another 21 years; though it has been outlawed for ten years in Britain and its possessions. However, British children having been working 13-14 hour days, until passage of this year's Factory Act, reducing labor to a 6 ½ hour maximum for children down to age six.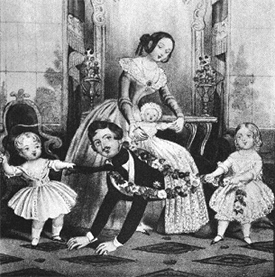 Queen Victoria, aged 24, has held the throne for seven years and has been married for four. The young monarch, with a husband and family, influences the morals and values of not only Britain, but Europe and America.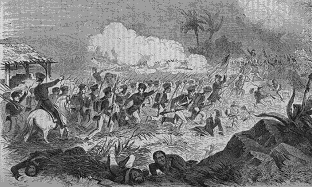 John Tyler is president of the United States, until suceeded by James Polk in a rambunctious U.S. election - characterized by the catchphrase "Manifest Destiny", and the slogan "54'40° or fight". American expansionism starts the Mexican war.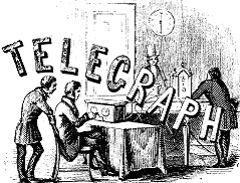 The first electrical telegram is sent by Samuel Morse, from Baltimore to Washington: "What hath God wrought?". Later that year the telegraph is used to announce birth of Victoria's second son Alfred Ernest. Within 40 minutes the news is printed and distributed in London by the Times. An experimental electric light is placed on the Place de la Concorde in Paris. Darwin returns from a voyage on the Beagle and writes an essay on his theory of natural selection: the beginnings of his theory of evolution. Nitrous oxide and ether used experimentally to deaden pain in surgery, heretofore done without anesthesia.

And there you have it. Now you know a little bit more about what was going on when the first audiences cheered Caesar on stage. The torch has been passed - now it's your turn to cheer!